What's in a pill? If it's an oil-based gel cap, it may contain...
Gelatin (a protein chemically extracted and refined from skin, bones, intestines, and other organs of cows and pigs)

Soybean oil (from genetically modified, omega-6-laden soybeans)

Glycerin (from soybean oil, a byproduct of the growing biofuels industry. US makes crude glycerin which is shipped to China and other Asian countries and reimported as refined glycerin.)
... among other carriers, fillers, artificial colors and preservatives, in addition to the nutrient or active ingredient. In the case of fat-soluble vitamins, there's the issue of rancidity.
What if you're cutting back on omega-6 fats, or GMOs, or foods of animal origin? What if your budget is tight? How easy is it to get the RDA from food - for, say, the fat soluble vitamin E? (
RDA for vitamin E for adult men and women is 15 mg (22.4 IU) alpha-tocopherol.)
Here are some vitamin E amounts I picked up from NutritionData (serving size, calories, vitamin E mg). In no particular order:
A single serving of spinach (32 cal, 3.4 mg), tomato sauce (30, 1.8), squash (41, 1.3), red pepper (23, 1.2), broccoli (27, 1.1), and almonds (162, 7.4) consumed in a day would meet the RDA, at 16.2 mg vitamin E for only 315 calories.
I often think since vitamin E is a fatty vitamin there wouldn't be appreciable amounts in non-fatty foods. Here's a chart from the data above that shows many low-fat, low-calorie foods have more vitamin E per calorie, that is, are more nutritionally dense, than higher-fat foods: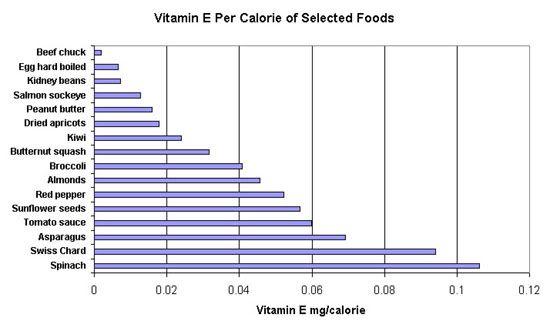 Click to enlarge.
For the case of vitamin E at least, foods may have the edge over supplements.
________
Photo of vitamin E and Chart: Bix