Is coconut oil really that inflammatory?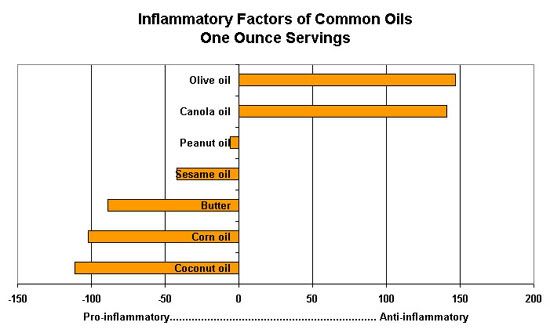 Click to enlarge.
Inflammatory Factor (for 1 ounce = 2 tablespoons):*
Coconut oil ....... -111 (inflammatory)
Corn oil ....... -102
Sesame Oil ....... -42
Peanut oil ....... -6
Butter ....... -89
Canola oil ....... +141
Olive oil ....... +147 (anti-inflammatory)
*
NutritionData's Inflammation Factor Rating:
"Estimates the inflammatory or anti-inflammatory potential of individual foods or combinations of foods by calculating the net effect of different nutritional factors, such as fatty acids, antioxidants, and glycemic impact.

Foods with positive IF Ratings are considered anti-inflammatory, those with negative IF Ratings are considered inflammatory. The higher the number, the stronger the effect."
Update
:
Maybe coconut oil really is inflammatory.
________
Chart: Bix, from NutritionData's data