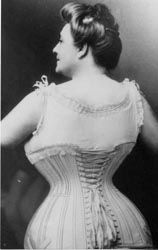 Well, I'll be. Paul Krugman, Op-Ed writer for the New York Times (not pictured), has my same gripe. Big business doesn't give a damn about your adipose tissue. They care more about plumping their bottom line, and if that results in your plump bottom, so be it.
He demonizes groups like the Center for Consumer Freedom - the one I refer to in my
Super Nonfoods post, the group that claims obesity in America isn't a problem, nor a threat, certainly not an epidemic, in fact not even an issue - for subsidizing this plumping, and for their careless lack of regard for those who may be harmed in the process.
What kind of group stalls passage of bills that would require schools to offer healthier foods? Tell me. At least adults are in a position to make choices about their health, but 10-year-olds? Kids stuck in school cafeterias? That's dastardly.
Mr. Krugman condenses his argument splendidly:
"The debate over obesity, it turns out, is a lot like the debate over global warming. In both cases, major companies protect their profits not only by lobbying against policies they don't like, but also by financing advocacy groups devoted to debunking research whose conclusions they don't like."
Read his "Girth of a Nation"
here.
ConsumerFreedom.com did not take his assessment sitting down. They (in the person of
Paul Campos) publicly criticized Mr. Krugman's:
"... remarkably naive analysis of the economic factors driving arguments about weight and health."
Arguing that he:
"... ignores the fact that many scholars with no connection to the food industry dispute the claim that increasing weight represents a serious health problem."
Read ConsumerFreedom.com's rebuttal, "Campos Lectures NY Times' Krugman On Obesity"
here.
What side are you on? Do you believe that America's weight gain does no harm - the claim of pro-obesity forces, as described by Mr. Krugman? Or do you think the glut of Super Nonfoods is wrecking havoc with America's health? I guess the side I take is evident.