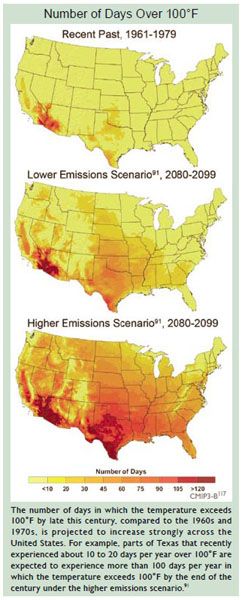 The Administration's
US Global Change Research Program issued the following report on June 16, 2009:
Global Climate Change Impacts in the United States
Describing it as...
"The most comprehensive, authoritative report on Global Climate Change Impacts in the US. ... Presents, in plain language, the science and impacts of climate change, now and in the future."
The report is gorgeous. And informative. Its key findings:
Global warming is unequivocal and

primarily human-induced

.

Climate changes are underway in the United States and are projected to grow.

Widespread climate-related impacts are occurring now and are expected to increase.

Climate change will

stress water resources

.


Crop and livestock production

will be increasingly challenged.

Coastal areas are at increasing risk from sea-level rise and storm surge.


Threats to human health

will increase.

Climate change will interact with many social and environmental stresses.

Thresholds will be crossed, leading to large changes in climate and ecosystems.

Future climate change and its impacts depend on choices made today.
A few more graphics I picked up from the report:
I live in the Northeast, near Philadelphia. I don't know if it's a result of global warming, but we've just experienced the wettest Spring/Summer I can remember. As to that herbicide effectiveness claim ... I read that pests and weeds develop resistance to insecticides and herbicides over time anyway, even without increases in CO
2
. Does this mean we'll be using more of them in the future? (With their attendant
endocrine disruptors?)
________
Thanks to Melinda and Sustainablog.