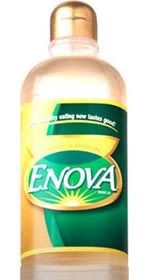 Here's a
new oil
, marketed in Japan since 1999 (as Econa
TM
) and making its way into US markets. It claims to reduce body weight, stores of body fat, and circulating blood fats, when used as a replacement for traditional oil. A 20 oz. bottle sells for $5.79.
Its Mechanism?
Over 80% of its fats are diacylglycerols (DAGs), not the traditional triacylglycerols (TAGs) found in regular oils and consumed by humans for millennia. DAGs are metabolized differently than TAGs. Studies do show a reduction in blood triglycerides right after you eat a DAG-rich meal. Levels of total cholesterol, LDL, HDL, and VLDL do not show consistent changes for the positive, however, when a DAG meal is compared to a TAG meal. Effects on body weight and body fat do not prove consistent across studies either.
Its Source?
Enova
TM
oil is made from a combination of soy and canola oils and is refined to convert the natural oil's TAGs into DAGs. It has the same amount of calories (120 cal) and fat (14 g) as any tablespoon of regular oil. It is not a fat substitute like Olestra
TM
which passes through the body undigested. Enova's fat is digested and absorbed in a similar manner as regular oil.
Its Long Term Safety?
The manufacturer claims "no adverse effects from single dose or long term consumption of DAG oil." But there is no natural history of humans consuming DAGs at the levels recommended by the company (10 to 20 grams a day, about 1 to 2 tablespoons a day). Studies cited refer to 12-week (Japan) and 24-week (US) duration investigations on humans. The only longer term evaluation was conducted on mice over the course of 2 years.
Since DAGs have been implicated in colon cancer, and since there are no long-term studies on humans which eradicate the possible cancer risk of consuming DAG-rich oils ... and since the jury is still out on whether this oil (which ounce-for-ounce provides the same calories as regular oil) can reduce body fat ... I think I'll stick with my extra virgin olive oil, thank you.